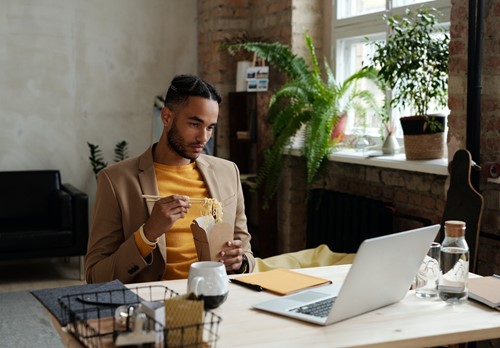 If you're working from home, it's crucial to have the proper workspace. While one benefit of working from home is the option to work anywhere in your home, setting up a dedicated home workspace can increase productivity and focus. Here we'll go over some tips for setting up your perfect home office.
Invest in Quality Furniture
If you don't already have a desk and desk chair you love, don't put off finding them. You're going to be spending a lot of time sitting at this desk, so it's crucial you choose something that is the proper size and dimensions for you and your work. Find a chair that is not only comfortable but supportive. The perfect combination of desk and chair will make your at-home work life more productive and healthy.
Consider Desk Placement
Don't underestimate the importance of where you place your desk in a room. Many experts recommend setting up your desk facing a window. This will help you avoid screen glare on your computer while giving you an opportunity to enjoy the view—or at the very least natural light. If you're in a windowless space, it can help to face your desk out into the room so create a sense of openness.
Use Proper Lighting
Natural light is important, but for rooms without windows or those with a lot of shade, it's essential to have the best possible lighting. More ambient light means less eyestrain, but make sure it's bright enough in the right places. Task lighting is a great way to make sure you have the light you need where you need. Try a small desk lamp in combination with multiple softer sources elsewhere in the room.
Stay Organized
One of the best things you can do to increase productivity is to practice good organization habits. This is especially true for technology. Have a place nearby for all of your tech accessories when not in use so that they're out of the way but within reach. Keep your cords and cables neat and tidy to avoid hazards and make the space look cleaner. If you don't have anything meant specifically for cable management, try using twist-ties.
Make It Personal
Just because this is your home office doesn't mean it can't feel like home. Including personal touches will make the room comfortable and familiar. You can avoid the feeling of a cold and sterile cubicle by adding lots of homey decor and accents. Favorite knickknacks, family photos and plenty of artwork on the walls will help create an environment that feels yours. Bringing colors or motif from other rooms can also help you feel more connected to the rest of your home even during long work hours.
These are just a few tips for helping you set up the perfect home office. The key thing to remember is that ultimately, the best choice is whatever works best for you and your productivity. This will mean something different for everyone, but these ideas are a great place to start.